December 23rd, 2011 by droptasksite
We were over the moon this week to come across a couple of top reviews of our CEO, Chris Griffiths' recently released book GRASP The Solution.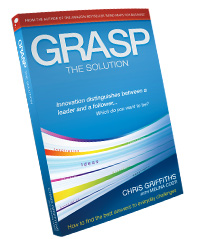 The first came from ForeWord Reviews. Based in the United States, this organisation is one of the few remaining wholly independent review sources, which makes it even better to see GRASP The Solution receive a superb 5 star rating from their reviewer Barry Silverstein. The book is described as 'far-reaching' and 'engaging' and the Mind Mapping chapter was especially well-received!